Sharon Raydor


Information
Name
Sharon Raydor
Rank
Captain
Affiliation
Los Angeles Police Department
Division
Force Investigation Division (The Closer)


Major Crimes Division (Major Crimes)

Gender
Female
Family
Richard William "Ricky" Raydor (Son), Emily Raydor (Daughter), Rusty Beck (Adopted Son)
Spouse(s)
Jackson Raydor (divorced)
Played by
Mary McDonnell
First appearance
Red Tape
Final appearance
Sharon O'Dwyer Raydor is the head of the Major Crimes Division on Major Crimes.
Character Information
Edit
In her first appearance, Raydor worked for the Force Investigation Division, a division of the LAPD Internal Affairs Group which scrutinizes LAPD officer-involved shootings and other uses of force. She investigated Sgt. Gabriel after he was involved in a shooting with a homicide suspect.
Now the lead officer of Major Crimes, her superior officer is Assistant Chief Taylor.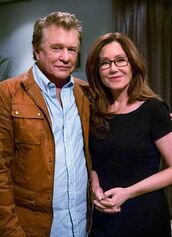 Sharon is estranged from her husband Jack, an attorney who moved to Las Vegas to gamble. They have a son, named Richard, and a daughter Emily. She was the legal guardian of Rusty Beck, a homicide witness in the Phillip Stroh case, one of Chief Johnson's last cases in Major Crimes.In "Down the Drain," Sharon was officially divorced and officially adopted Rusty.
Her address is 4411 Los Feliz Blvd. Los Angeles, CA.
Her phone number is 323-555-0112
Maiden name is O'Dwyer as revealed in "Down the Drain"