Sharon and the team track an unhinged killer making his own film, with his victims as the stars as a new romance takes wing.
The Victim
Edit
The Suspects
Edit
Closing the Case
Edit
Guest Cast
Edit
Recurring
Edit
Locations
Edit
Episode Notes
Edit
The Other Side of the Coin
Edit
The jury sentences Slider to death and he glares at Rusty afterwards. Judge Grove decides to have a hearing in a week to determine whether or not he will uphold the death sentence though Bobby Munroe tries to waive the hearing.
Afterwards, Rusty tells Gus he looked it up and Judge Grove never throws out death penalties, but it still will not end as Bobby Munroe will just keep filing appeals. Gus is willing to wait it out for Mariana's sake.
Rusty has a nightmare where Slider appears in his room and accuses Rusty of telling his story because he thought that when Slider got out of jail, Slider would "give him a thrill." Rusty insists that's not what he wanted and Slider suggests Rusty just hustles people and drops them after he gets what he needs and suggests he did that to Gus. Rusty insists he didn't do that to Gus while Slider tells Rusty he did it to Slider himself. Rusty then wakes up.
Rusty and Gus
Edit
After explaining what's going to happen next to Gus, Rusty offers to get lunch with Gus who turns him down as he's got somewhere to be. Rusty then tries inviting Gus to a Christmas party Sharon is throwing, but after Rusty tells him that everyone will be happy to see Gus again, Gus turns him down, stating he's not in the Christmas spirit though he doesn't want to disappoint "everyone". Rusty is left disappointed by this.
Gus comes to the holiday party afterall where he asks Rusty if he's there as Rusty's date. Rusty tells Gus he thought it out and there's too many hurdles, namely that Gus lives in Las Vegas while Rusty lives in Los Angeles. Gus informs a surprised Rusty he's moving to LA. He hadn't been able to have lunch with Rusty because he was getting a job. When Rusty asks if its for him, Gus explains its so he can be close to Paloma in case her foster family allows him to be in her life. Rusty tells him he has to focus on college, but Gus has no problem with that, even saying maybe he'll go to college too one day. Rusty admits he has no idea how to date someone, but Gus feels that as they already know each other they have a big edge in that. Rusty finally expresses his true fears to Gus: that once Gus gets to know him better, Gus won't like him anymore. Gus doesn't believe that to be possible.
After his conversation with Gus, the two enter the squad room together smiling and Rusty, telling Sharon he's putting himself all in, asks for Gus to spend Christmas Day with them as he'll be in LA with nowhere to go. Sharon and Andy are both delighted at the idea, especially as Gus has been through some difficult times. Rusty tells them that "maybe something good's about to happen" and beaming, goes to talk to Gus. The two are later shown talking and laughing with Sharon.
Andy's Health
Edit
Andy is still unable to go out into the field as shown when Sharon tells him no on doctor's orders when he tries to go into the field. Andy is left annoyed while Buzz is amused.
Sharon Beck
Edit
At the squad's Christmas party, Provenza gets a phone call and informs Sharon that it was about Sharon Beck. Provenza tells Sharon that Sharon Beck changed her address from a rehab center and halfway house to an apartment building. Tao shows Sharon a report that on drug tests, Rusty's mother has been testing clean every week for the past three months and has a cell phone, job and an address. However, Sharon Beck hasn't contacted Rusty. Sharon suggests that Sharon Beck wants to be sure of her recovery before contacting Rusty which she can agree with. Sharon decides to stop interfering in Sharon Beck's life, giving her the space she needs to make her own way and see what the New Year brings. Sharon throws out the report on Sharon, but Provenza takes it from the trash after she leaves and puts it in his filing cabinet.
Episode Media
Edit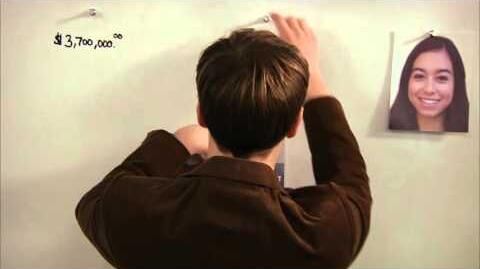 Rusty informs his audience about Slider's death sentence and then measures the amount of money the state expended with Slider versus Mariana.
Ad blocker interference detected!
Wikia is a free-to-use site that makes money from advertising. We have a modified experience for viewers using ad blockers

Wikia is not accessible if you've made further modifications. Remove the custom ad blocker rule(s) and the page will load as expected.