Title
Off the Wagon
Series
Major Crimes
Season
5
Episode
8
Airdate
August 15, 2016
Viewers
3.18 million
Written by
Michael Zara
Directed by
Stacey K. Black
Guests
Sherilyn Fenn
Stephanie Courtney
Previous episode
Moral Hazard
Next episode
Family Law
Episode list
Season 5
"
Very vanilla!
"

— Det. Sanchez
Lts. Andy Flynn and Mike Tao delve into the mysterious overdose of a young Hollywood star and the trail of emotional destruction he left in his wake, while Rusty finally comes to a conclusion about how to handle the pregnancy of his biological mother.
The Victim
Edit
Chris Walker

24-year-old actor who plays a vigilante called Gold Storm.
Former drug addict.
After getting clean from drugs divorced his wife Tina.
The Suspects
Edit
Sean Wheeler

Chris Walker's former representative.
Has filed a lawsuit against the victim.

Marsha Walker

Chris Walker's mother.
Has also filed a lawsuit against her son.

Tina Walker
Jared Scopes

The victim's sober living assistant.
Found the victim dead in the steam room.
Closing the Case
Edit
Guest Cast
Edit
Stephanie Courtney (Dr. Debra "Deb" Morrow)
Sherilyn Fenn (Marsha Walker)
Jonathan Slavin (Jared Scopes)
Recurring
Edit
Locations
Edit
Episode Notes
Edit
Stephanie Courtney, the actress who plays Dr. Deb, is best known as Flo, the pitch woman for Progressive Insurance. She has an extensive list of acting credits in addition to her work in the commercials.
Rusty and Sharon Beck
Edit
After some deliberation, Rusty decides to support his mother moving in with Gary's parents and raising Rusty's unborn sister with them.
Sharon is shown to be far more accepting of her son's sexuality than she has in the past, warmly speaking with Gus and smiling as she hears the two declare their love for each other for the first time.
Rusty and Gus
Edit
At the end of the episode, Rusty tells Gus he loves him for the first time and can't imagine life without him. After a moment of shock, Gus returns the sentiment and promises to hold Rusty to his words.
Episode Media
Edit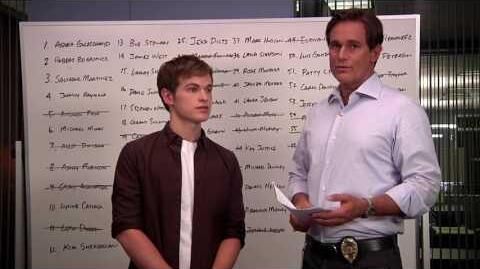 Ad blocker interference detected!
Wikia is a free-to-use site that makes money from advertising. We have a modified experience for viewers using ad blockers

Wikia is not accessible if you've made further modifications. Remove the custom ad blocker rule(s) and the page will load as expected.