The Major Crimes Division is an elite investigative unit of the Los Angeles Police Department. Originally called the Priority Homicide Division, the MCD or "Major Crimes" as it is generally called, investigates high priority crimes, including multiple homicides, cases involving high-profile victims or suspects, and "critical missing" cases, which are missing person cases involving kids under 14 years old and/or suffering from mental illness or disability. MCD is under the direct command of the Director of Operations.
Major Crimes Division was headed by Deputy Chief Brenda Leigh Johnson for seven years. Following Chief Johnson's retirement from the LAPD, Captain Sharon Raydor assumed command of the division.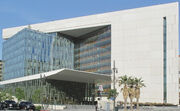 The Major Crimes Division is currently located in the LAPD's headquarters, the Police Administration Building (PAB), located in downtown Los Angeles, next to the Los Angeles City Hall.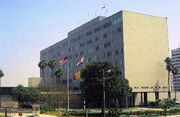 The Priority Homicide Division (and later Major Crimes Division) was originally located in Parker Center which was the LAPD's headquarters until October 2009.
For Major Crimes, Season 5, the MCD received a miniature version of the RACR system used by the LAPD to their office. MCD can be seen using this new room extensively when going through large quantities of video material or when they are watching live-feed from surveillance operations conducted by the division and/or by the Special Investigation Section (SIS).
Personnel
Edit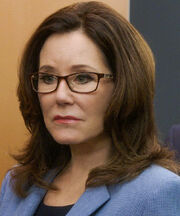 Investigative Personnel
Edit
Support Personnel
Edit
Major Crimes Division in the Real World
Edit
The commanding officer of Major Crimes Division is Captain Steve Sambar.
In the real LAPD, the Major Crimes Division is under the command of the Counter-Terrorism and Special Operations Bureau and their job differs from the work depicted in the series. In real life, the primary objective of the division is the prevention of terrorist attacks or possible riots that can cause major damage to property and the loss of life in Los Angeles as well as preventing individuals or groups from harassing or harming others on the basis of race, religion, national origin, or sexual orientation.
Real life MCD is comprised of Criminal Conspiracy Section, Criminal Investigations Section, Intelligence Investigations Section, Surveillance Section, and Liaison Section.
In the Major Crimes Universe, it is presumed that the fictional Counter-Terrorism Division and the fictional Criminal Intelligence Division are handling different parts of the real Major Crimes Division's investigative responsibilities.
In the real LAPD, high-profile investigations are conducted by the different sections within the Robbery-Homicide Division.
Ad blocker interference detected!
Wikia is a free-to-use site that makes money from advertising. We have a modified experience for viewers using ad blockers

Wikia is not accessible if you've made further modifications. Remove the custom ad blocker rule(s) and the page will load as expected.