Kendall is a Coroner's Investigator for the Los Angeles County Department of the Coroner.
His job is to examine the body, make identifications, collect on-site data, and transfer it to the Coroner's office. He prepares reports that are forwarded to the Forensic Medicine Division and the medical examiners for use in the determination of the cause and mode of death.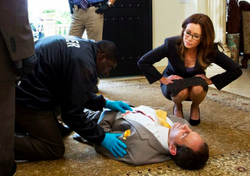 In "Intersection", he told the Major Crimes Division that just two moths ago, his teenage cousin was killed by a vehicle on Venice Boulevard when he was out riding his bike, which causes him anger and excused himself from the crime scene, as his job was done.
In "Shockwave, Part 1", Kendall is in proximity to a bomb that goes off, killing one civilian police officer and seriously injuring another. However, Kendall himself proves to be unharmed.
Ad blocker interference detected!
Wikia is a free-to-use site that makes money from advertising. We have a modified experience for viewers using ad blockers

Wikia is not accessible if you've made further modifications. Remove the custom ad blocker rule(s) and the page will load as expected.