A professional baseball pitcher's daughter goes missing, and the Major Crimes team's investigation leads them to the very limits of the justice system. Rusty is put in an extremely awkward position as Slider approaches the last phase of his trial.
The Victim
Edit
The Suspects
Edit
Closing the Case
Edit
Guest Cast
Edit
Recurring
Edit
Locations
Edit
Episode Notes
Edit
Provenza displays a lack of knowledge of social media in calling Instagram "the Instagram."
The Other Side of the Coin
Edit
At Slider's sentencing hearing, Doctor Joe is called upon to testify about his mental state and states his conclusions that Slider has a violent inferiority complex and instead of accepting responsibility for his actions, believes people have ganged up on him and his life changes should outweigh his murder of Mariana Wallace which he has shown no sympathy or remorse about. Bobby Munroe questions him if the performance impact of his inferiority complex could've prevented him from understanding what murdering Mariana meant. However, Doctor Joe does not believe Slider to be mentally damaged enough for that. Instead, Doctor Joe believes Slider's behavior means that he consciously chose to kill Mariana and believes he should get away with it.
Gus testifies about his search for Mariana and how important she was to him while Slider killed her without a second thought. Gus then storms out of the courtroom, ignoring Rusty.
On the stand, Rusty testifies about Slider's past, but also points out how he and Mariana were both on the streets at fifteen like Slider and neither of them committed murder. While Rusty admits that society may have neglected Slider, it was not responsible for his addiction to meth and tells Munroe, who keeps referring to Slider as the victim, that he sees Mariana as the victim, not Slider.
Slider testifies that he's sorry Mariana's dead and he robbed the house she worked at but the woman was rich and insured and hadn't thought she'd have Alice arrested over the stuff he stole. When asked about if he thinks of Mariana, Slider says he does as she's the reason he's in jail and understands why Gus is upset about her death. When Hobbs asks if Slider is sorry for killing Mariana, he just tells her that he can't be sorry for what he didn't do and claims the police tricked him into believing he did it.
With all testimony done, Judge Grove sends the jury out to begin their deliberations on Slider's sentence.
Gus and Rusty
Edit
Gus spends the sentencing hearing ignoring Rusty and visibly angry at him though he starts to soften after Rusty's testimony.
After the hearing is over, Rusty speaks to Gus who apologizes for his behavior, having caught up with Identity. Gus suggests that he let "other feelings" and "crossed signals" get caught up in what's going on between them. Rusty hesitantly tells Gus that Gus doesn't know him really and would be better off not caring about him so much. Gus agrees that it probably would be better but he does care which is the problem. However, Gus sees it as his problem and he'll be gone in a week or two so Rusty won't have to worry about it. Gus thanks Rusty "for being nice about it" and walks off, leaving Rusty conflicted.
Episode Media
Edit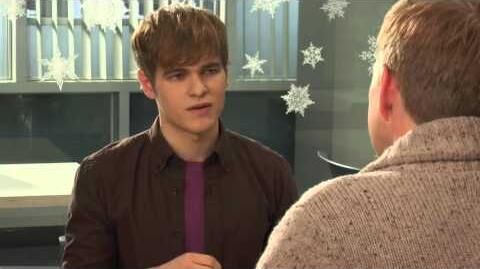 Rusty interviews Doctor Joe for his opinion on drug addicts and their motives.
Ad blocker interference detected!
Wikia is a free-to-use site that makes money from advertising. We have a modified experience for viewers using ad blockers

Wikia is not accessible if you've made further modifications. Remove the custom ad blocker rule(s) and the page will load as expected.