Title
Blackout
Series
Major Crimes
Season
4
Episode
12
Airdate
November 9, 2015
Viewers
million
Written by
Damiani Johnson
Directed by
David McWhirter
Guests
Previous episode
Four of a Kind
Next episode
Reality Check
Episode list
Season 4
Jack Raydor is back again, defending a man who is attempting to withdraw a confession in the murder of his wife. A last-second video purporting to provide the defendant with an alibi alerts the Major Crimes team to the possibility of a conspiracy. Rusty interviews Slider, while Flynn is still living with Sharon due to his injury.
==Closing the Case== It turns out that Lisa's mom was the one who murdered her daughter in an attemp of saving the baby from her "abusive" father. Lisa had refused to leave her husband, Lisa's mother thought that getting rid of Lisa was the only way of saving the baby.
Guest Cast
Edit
Recurring
Edit
Locations
Edit
Episode Notes
Edit
The Other Side of the Coin
Edit
Rusty meets with Slider for an interview, but Slider informs him that his lawyer never told him about the meeting and feels that Rusty screwed him over like he feels the system did. Rusty knows he's Slider's only visitor besides his lawyer and brings up how his mother was an addict with "a great disappearing act" and she told him that while she was in jail, anything that broke her routine was worthwhile. Slider only wants to talk about Alice as he's insistent on being innocent until proven guilty, but Rusty is not allowed to talk with him about the cease.
Rusty doesn't get anywhere with Slider and wonders if he should bother to keep trying, but after hearing the story, Andy suggests that Slider may not be wrong as the system doesn't always do right by everybody. Andy suggests that if Rusty does go see Slider again, he show him the questions on paper to see if he's ever actually seen them before or lied about that. Andy suggests that there might be more to it than Slider never seeing them before.
Rusty visits Slider again and shows him the questions as Andy suggested. Slider insists that he's never seen the questions before in his life and Rusty asks him just to answer the third question, "where do you reside" for him. When Slider refuses, he asks Slider to just read one of the questions aloud to him and when Slider can't read it, Rusty realizes that Slider doesn't know how to read.
Episode Media
Edit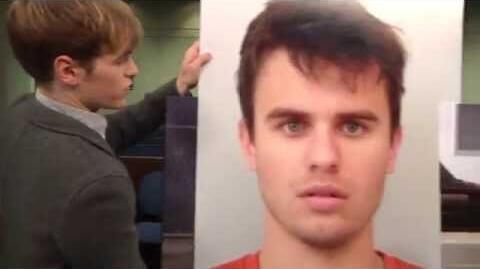 Rusty goes over what he has learned of Slider's history.
Ad blocker interference detected!
Wikia is a free-to-use site that makes money from advertising. We have a modified experience for viewers using ad blockers

Wikia is not accessible if you've made further modifications. Remove the custom ad blocker rule(s) and the page will load as expected.