Andrew "Andy" Flynn is a Detective Lieutenant in the Major Crimes Division on Major Crimes.
Character Information
Edit
For the most part of season 1, Flynn worked for the Robbery-Homicide Division but was "loaned" by Taylor to Priority Homicide. In Fatal Retraction, when one of Flynn's old cases was reinvestigated and Taylor was prepared to throw Flynn under the bus for misidentifying the victim, he requested a permanent transfer to Brenda's unit. His closest friend is Provenza and he has a "not dating" relationship with Captain Sharon Raydor who helped him start to repair his relationship with his estranged daughter. In Snitch, Flynn finally asked Raydor out on a real date and the two eventually made their relationship official with Assistant Chief Taylor, though they tell him they are doing it "old school." This causes some tension with Rusty, but he seems to come to accept Flynn's new role in his life.
In episode Turn Down, he and Provenza were on a drive-along with Buzz Watson on his first day as a Reserve Officer. Neither were happy that they missed being at the Fourth of July Dodgers game as a result which was described as "the game of the century" though everyone saw it on TV in Sharon's condo.
When Rusty manages to identify Alice Herrera as Mariana Wallace in "Hostage to Fortune", Flynn is visibly displeased that Rusty left the death notification to Raydor. Despite this, he aids Rusty and Hobbs in their efforts to learn more about Mariana and secure Gustavo Wallace's cooperation in Mariana's murder trial. To this end, after learning that Gus wants custody of his little sister Paloma rather than their mother and abusive step-father, Flynn offers to conduct an unofficial search for Paloma so that she won't be immediately returned to her family or sent to foster care in Nevada. Flynn warns Rusty that while he will search, he can't be held responsible for the consequences that will come from locating Paloma. Flynn's search locates Paloma in a good foster home monitored by Rusty's old caseworker Cynthia. However, as Flynn predicted, there are consequences: if Gus identifies Paloma officially, she will be removed from the home and sent back to her mother and step-father or a new foster home in Nevada. Either option will destroy the new life Paloma has built for herself. Ultimately, a deal is established with Gus where in exchange for his testimony, he can't see Paloma until she's 18 when his presence in her life won't destroy the new life she built. Flynn attends Mariana's funeral and watches as the squad comforts Gus over the resolution that occurred to his search for his sisters.
After an injury suffered during an arrest in Four of a Kind, he starts having some health problems caused by a blood clot in his carotid artery which is a cause for great concern by Sharon on a professional and personal level. Because of these reasons, his doctor has ordered that he has to be monitored 24/7. He currently live with Sharon and Rusty. He will also be monitored by Patrice who was asked by Provenza to hang out with him when Sharon and Rusty are not home.
Flynn is a sober alcoholic and has been sober for over 10 years.
Flynn is divorced.
Flynn's sister had cancer
Flynn's daughter, Nicole, recently got married. Both her father and step-father, whom Flynn can't stand, walked her down the aisle. Flynn nearly didn't go, but Sharon Raydor convinced him to.
Flynn took Sharon to his daughter's wedding. Then, he asked her to go with him to dinner and The Nutcracker. This causes Nicole to think they are dating and they insist they are not. However, as Rusty Beck points out, they are "not dating" several times a month now. He and Nicole clearly don't believe their assertions and when explaining how they are supposedly not dating, they seem stunned by the revelation of how much time they spend together in date-like environments. Flynn spends "Snitch" trying to get up the courage to ask Sharon on a real date which he does in the end. She accepts his offer. In Hostage to Fortune, Flynn and Raydor officially announce their relationship to Assistant Chief Taylor who lets them continue with no problems to their careers or working together. They also inform him their dating relationship is the "old fashioned" kind with Flynn commenting that its so old fashioned he's surprised they don't have a chaperone.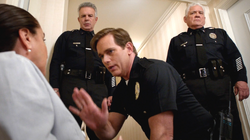 When in uniform, Flynn wears six service stripes on his uniform. Each stripe represents five years of service in the LAPD meaning he has served for 30-35 years.